School named for Mary Wright
School named for Mary Wright
New Elementary School in Strathroy to be Named: Mary Wright Public School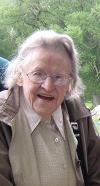 Mary Wright has had a long and distinguished career at Western. She earned her undergraduate degree here in 1939, transitioning into graduate work at the University of Toronto. In 1946 she took a professorial position at Western. There are many firsts associated with her work. She was the first female director of CPA  (1959) and its first female President (1968). In 1960, she was appointed chair of the Psychology Department - the first female chair of a major psychology department in Canada. She served as Chair from 1960-1970 and laid the basis for its current reputation and orientation as a research-intensive unit. She is well known for founding and her continuing support of the Mary J.Wright University Lab School held in Westminister College, Western University.  The history and philosophy of psychology section of CPA has established a student award in her honor.


The citation by the school trustees regarding the naming of the new public school in Strathroy reads:

Mary Wright Public School honours the name of Dr. Mary Wright who was born in Strathroy in 1915.  Dr. Wright was instrumental in forming the original daycare in Strathroy.She also started a daycare at Western University.  She is an internationally respected child psychologist and a strong advocate for early childhood education.  She was a professor at Huron University College at Western, has written several papers and books, and was the first female to hold multiple leading roles in her discipline.  She has been granted several awards including honorary doctorates.The Wright Foundation supports several organizations in Strathroy.  Dr. Wright, at age 98, is currently living in Strathroy close to the new school site.