Bipasha Baruah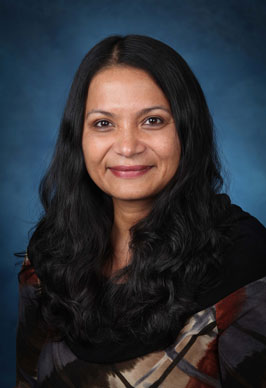 Canada Research Chair in Global Women's Issues
Tier 2 - July, 2017 - July, 2022
Social Sciences and Humanities

Office: Lawson Hall 3244
Phone: 519 661-2111 ext.86316
E-mail: bbaruah@uwo.ca
Website



Gender, Property Ownership and Green Livelihoods
Women make up half of the world's population and perform two-thirds of the world's working hours. But they receive only one-tenth of global income and own only one-hundredth of the planet's property.

To date, much of the research on gender and development has focused on inequalities between men and women with respect to wages, educational opportunities, schooling outcomes, mortality and morbidity, and more recently, political participation and representation.

Dr. Bipasha Baruah, Canada Research Chair in Global Women's Issues, will identify the social, economic, legal, cultural, political and institutional factors that influence women's ability to own property. She will develop theories, methodologies and analytical frameworks for conducting interdisciplinary research on gender and property ownership.

Baruah will also explore the opportunities and constraints that women face in securing equitable, healthy and decent jobs and entrepreneurial opportunities in low-carbon economies in different world- regional contexts.

Findings from this research will help governments, non-governmental organizations (NGOs) and other stakeholders to formulate appropriate policy responses to women's needs for land, housing and sustainable livelihoods.
Source: Canada Research Chairs program, Government of Canada