Grahn and Richmond named as 2016 Faculty Scholars
Grahn and Richmond named as 2016 Faculty Scholars
April 15, 2016
Congratulations to Jessica Grahn, Department of Psychology and Chantelle Richmond, Department of Geography, two of the recipients of this year's Faculty Scholar awards.

Jessica Grahn is a member of the Brain and Mind Institute and was promoted to Associate Professor in the Department of Psychology in 2015. Grahn's research has focused on music-induced movement, particularly how perceiving a beat in musical rhythm makes people move, how the brain gives rise to this capacity and how it can be used for music-based health interventions. Grahn has published more than 30 peer reviewed articles in the top journals in the field, and has secured more than $2.25 million in grant funding in the past five years. Beyond her extensive research, she is also a popular teacher with an exceptional record of teaching and mentorship of undergraduate, graduate and postgraduate students. Her international reputation has attracted trainees from around the world, and several students have won prizes for thesis research or received national or provincial funding awards.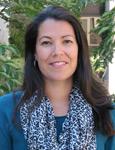 Chantelle Richmond became an Associate Professor in the Department of Geography in 2014, and holds cross appointments in the First Nation Studies Program and the Department of Family Medicine. Richmond has made major contributions to research and training in the area of the geographies of Indigenous Health, with a focus on applied Community Based Research and knowledge translation. Since 2007, Richmond has been awarded more than $4.3 million in grants from the funding bodies, governments and non-profit organizations to collaborate with multiple First Nation communities and Aboriginal organizations. She has also been invited on several occasions to present her work to key decision and policy makers. Richmond sees great value in research that will contribute to the improved health and wellbeing of the Aboriginal population and views her role as teacher as extending beyond the classroom and into the communities, organizations and policy circles where she works.
Stefan Everling, Department of Psychology, and cross-appointed in the Department of Physiology and Pharmacology, and Bipasha Baruah, Department of Women's Studies and Feminist Research, were also named as Faculty Scholars.
Established in 2005, the Faculty Scholars Award recognizes significant recent scholarly achievements in teaching or research. Nominated by faculty deans and selected by the Faculty Selection committee chaired by the Provost, the recipients have an international presence in their discipline and are considered all-round scholars. Winners hold the title "Faculty Scholar" for two years and receive $7,000 each year for scholarly activities, as well as receiving a citation. See the full list of recipients.