Economics student inspired to impact world through One Young World Summit
Economics student inspired to impact world through One Young World Summit
October 23, 2016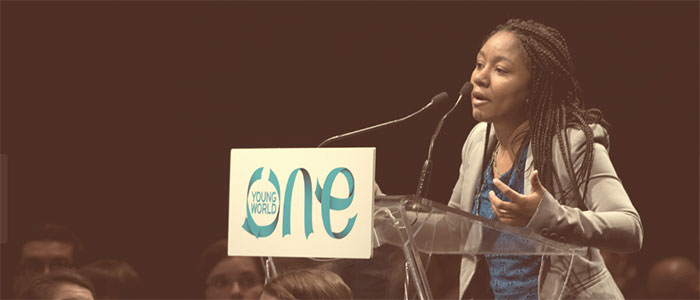 Michelle Ampadu is a fourth-year student in the Honors Economics program. Committed to making the world a better place, Ampadu attended the One Young World Summit in Ottawa from September 28 to October 1.
The summit, founded in 2009, brings together youth delegates from more than 190 countries to create an environment of collaboration and innovation to focus on pressing issues in the world. Along with these delegates, the conference features Counsellors who speak about their area of expertise or passion. The Ottawa summit included actor Emma Watson, former Secretary-General of the United Nations Kofi Annan, and Professor Muhammad Yunus, who received the Nobel Peace Prize for developing the concept of microcredit.
Ampadu has been involved in other leadership initiatives, including serving as President of a Toastmasters Youth Leadership club in Brampton and as an International Commissioner for London Hall residence, planning events for international students. But the summit helped her make connections to global issues.
"You form an international network with people who really care about the direction that world is heading, and who are creating and implementing solutions to solve problems in that their societies and the world is facing," said Ampadu. "At the end of the summit, delegates are initiated with the role of One Young World Ambassador."
"The world came to Ottawa. It was really nice to see what is going on in different countries and how you can be part of it," said Ampadu.
While the delegates come from around the world, Ampadu said "technology allows us to connect and have a global impact. The same global issues affect the whole world - climate change, resource depletion, terrorism, economic inequality, mental health - these are issues that affect the whole world, and you can develop solutions that can impact the world from where you are."
Inspired by the conference, Ampadu has started the Collaborative Economics Research Initiative, for students to come out and find creative solutions for Economics problems, and to support the Western Economics Society in efforts to make more research impact.
Ampadu is also focusing on key areas in Social business, economic inequality - where she is focusing her thesis - mental health, and climate change.
Ampadu was sponsored by Western Research, the Department of Economics, and the Student Success Centre, through Experiential Learning @ Western, Financial Aid, Academic Programs, and Schulich Medical Centre.