Social Science students step up to solve the world's challenges
Social Science students step up to solve the world's challenges
November 27, 2016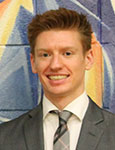 Social Science students fared well in the third year of the World's Challenge Challenge.
Part of Western's International Week, the event features student teams presenting a unique solution to a global challenge. More than 30 student teams competed, and each of the three winning teams included a student from Social Science.
Robert Celik, a student in the Department of Geography, was a member of the first place team, along with Linta Mustafa and Anisha Khanna, students in the Faculty of Health Sciences. The team looked at addressing the sustainability of contemporary agricultural food systems.
Their solution encourages responsible food consumption and production through insect-based meat alternatives. Through increased production and targeted education, the team would reverse the negative perception toward insect consumption, and develop an alternative protein source with less environmental impact.
The second place team focused on sustainable empowerment for women in Tanzania, and included Stephanie Huff, Occupational Science, PhD candidate, Andrea Burke, International Relations, and Gagan Singh, Microbiology & Immunology.
The third place team focused on developing economic profiles for refugees and included Gareth Gransaull, Political Science, Jasmine Wang, Medical Science, and Amy Wang, Computer Science.
The winning team members each receive $1,000 to help fund a Western-sanction learning opportunity, and advance to compete in the first International World's Challenge Challenge in May 2017.

Read more about the World's Challenge Challenge and the other winning teams.