Donation from the estate of Professor Ken Hilborn creates awards for history students
Donation from the estate of Professor Ken Hilborn creates awards for history students
September 01, 2016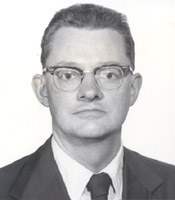 Professor Kenneth Hilborn bequeathed an estate gift of $1,000,000 to Western University, of which $750,000 was directed to the Department of History to establish awards for undergraduate and graduate students.

Hilborn was a graduate of Queen's University and the University of Oxford, where his supervisor was A. J. P. Taylor. He taught courses in History and International Relations at The University of Western Ontario from 1961 to 1997. He died in 2013 at age 79.

"Ken Hilborn's generous gift to the history department gives a great boost to undergraduate and graduate students," said Francine McKenzie, Chair of the Department of History. "The Hilborn awards recognize students with exceptional academic records and make it possible for students to enrich their studies through internships, conferences and travel for research."

Through the endowment, the Department of History has established:
The Professor Kenneth Hilborn Doctoral Completion Award, awarded to a graduate student in the Doctoral program in History
Professor Kenneth Hilborn Graduate Student Award for Research and Conference Travel awarded to graduate students in history
Professor Kenneth Hilborn Graduate Internship in Public History consisting of an internship placement under the guidance of a professional public historian, as part of their existing internship program.
The Professor Kenneth Hilborn Global Opportunities Award supporting undergraduate students participating in a Western University international experience
The Professor Kenneth Hilborn International Relations Graduation Scholarship awarded to a student graduating with an Honor Specialization in International Relations
Professor Kenneth Hilborn International Relations Internships, awarded to full-time History students pursuing an Honors Specialization in International Relations. Internships may be held within Canada or internationally.