Kevin Lynch, former top public servant, receives honorary doctorate
Kevin Lynch, former top public servant, receives honorary doctorate
May 25, 2016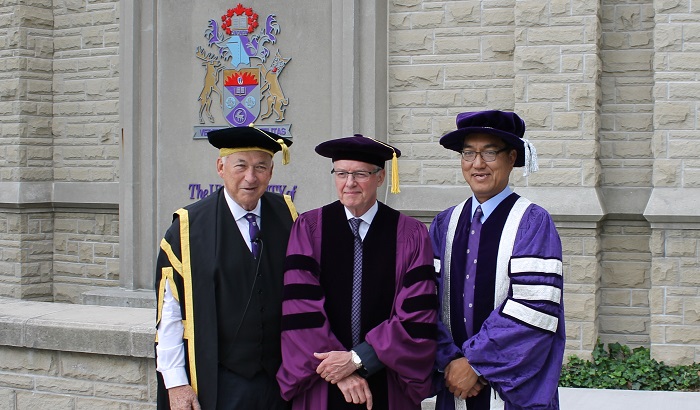 From left: Jack Cowin, Chancellor, Western University; Kevin Lynch, Honorary Doctorate Recipient, and Amit Chakma, President, Western University.
Kevin Lynch, a Canadian economist, served as Clerk of the Privy Council and Secretary to the Cabinet, Canada's most senior civil servant, and is an Officer of the Order of Canada.
He can now add Doctor of Laws, honoris causa (LLD) to his list of accomplishments, as he received an honorary doctorate as part of the 307th Western University Convocation ceremony.
Having started his career in 1976 with the Bank of Canada, he later served as Deputy Minister of Industry and Deputy Minister of Finance and then Executive Director at the International Monetary Fund. In early 2006, Lynch was appointed the 20th Clerk of the Privy Council, Secretary to the Cabinet and Head of the Public Service of Canada. The 14th Chancellor of University of King's College, Lynch is also past Chair of the Board of Governors of the University of Waterloo.
In his address to graduates from the Faculty of Social Science (BMOS), Lynch called on the new graduates to be resilient, confident agents of change in a rapidly changing world.
"You will shape your future and make your mark in a profoundly changing world, a challenging world, a world of uncertainty and opportunity" said Lynch.
"It is time, frankly, for fresh thinking to avoid letting past success be our biggest risk to future success."
To succeed in the changing workd, Canada, Lynch said, should raise its ambition levels, should be a leader on globalization, and should build global talent hubs to attract the best and brightest from around the world.