Helping refugees find the information they need
Helping refugees find the information they need
August 25, 2016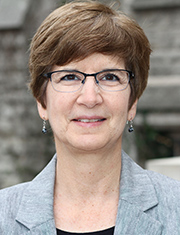 Victoria Esses, Professor in the Department of Psychology at Western University, and three co-investigators have received a SSHRC-Immigration, Refugees and Citizenship Canada (IRCC) grant to research refugee information needs and how refugees receive and use information.
The research is part of SSHRC's targeted research on Syrian refugee arrival, resettlement and integration. Co-investigators are Ajit Pyati, Associate Professor in the Faculty of Information and Media Studies, and two professors from Mount Royal University, Leah Hamilton and Mohammed El Hazzouri.
Esses and her colleagues previously researched the settlement outcomes of immigrants, including refugees, in Canada's western provinces. Their findings showed that many refugees did not receive enough useful information as they travelled to and settled in Canada.
Partnering with four community agencies – two in London and two in Calgary – the researchers will investigate what kind of information Syrian refugees need, and how to best get that information to them. The researchers will survey refugees in Alberta and Ontario to look at the full-spectrum of information needed, from before they travel to Canada to what they need once they arrive and begin to settle in the country.
"Syrian refugees are more tech-savvy then we might expect," said Esses. Earlier research showed that social media use is very prevalent for refugees. "Even those who don't have a lot of money are using social media to stay in touch with family and to try to obtain information."
The community partners are London Cross Cultural Leaner Centre, South London Neighbourhood Resource Centre, Calgary Catholic Immigration Society and Calgary Immigrant Women's Association.
"Working with community partners is very important, as they have direct connections with refugees and on the ground knowledge of their needs", said Esses. Understanding what communication tools refugees use will help agencies to determine what strategies to implement to provide refugees with useful information about Canada, their local community, and settlement resources. As the findings become available, the community partners will be able to use them right away to provide better support for refugees to integrate into their new communities.
Along with sharing the findings with the community partners, information will be available through Pathways to Prosperity.