Why we should all be tweeting about birds
Why we should all be tweeting about birds
April 05, 2017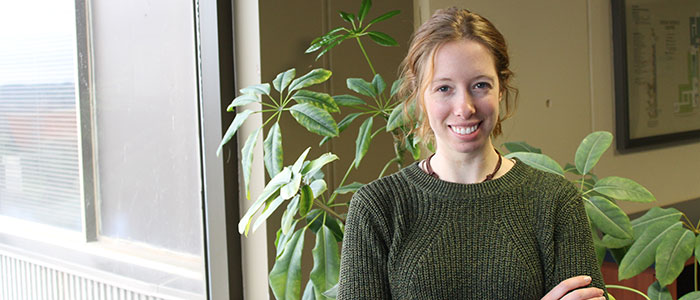 When Pavlina Faltynek started her undergraduate degree, she didn't know she would be studying birds, but a course with Scott MacDougall-Shackleton sparked her interest in the field.
Faltynek is now a 2nd year Masters Student in Behavioral and Cognitive Neuroscience, researching the responsiveness and resiliency of birds in response to social stressors. Faltynek presented her thesis in the Social Science heat of the Three Minute Thesis, and was one of three competitors selected to advance to the university-wide competition at Western.
Her presentation, entitled "Why we should all be tweeting about birds" investigated the effects of different stressors on song stereotypy – the consistent, repetition of a song – and neural degeneration in the brains of adult male birds.
Faltynek found that if males are not able to physically interact with other birds, they do not sing as consistently as they could or should be, which could result in the potential loss of mating opportunities. The next step in this research involves looking at tissue samples from the affected birds, to see if there is a correlation with brain degeneration.
Faltynek's research challenged a generally-held belief that adult male birds are more resilient than birds in earlier stages of development. She showed adult males are vulnerable to environmental stress, and that their songs are flexible and can change. These findings add to the increasingly dynamic understanding of birds.
Faltynek hopes her research, and her presentation, can help convey how vulnerable birds can be when there are changes to their environment, and how important birds can be as a litmus test in the environment.
"I think birds and animals have a right to live as close to their natural environment as possible," she said. "Birds are important for humans, as they are responsible for a large portion of insect control. If we lose birds, their quality of life decreases and so does ours."
Faltynek wants to take her training and apply it to law and policy fields.
"I think it's important for scientists to advocate for themselves," Faltynek said. "People with law backgrounds may not be able to distinguish between good research and strong, rigorous research. People with scientific background have to start to get involved in policy making."
Her plans are driven by a desire to see her research make a difference. "I want to know that the research conducted means something. I don't want it to stay stagnant," said Faltynek. "We need to maximize the application of research and apply it to  policy, otherwise, what are we doing it for?"
The Three Minute Thesis (3MT) is a competition which takes place in the spring of every year at universities throughout the world. The idea started in Australia and has quickly spread to many other countries. The idea is simple, students who are completing their thesis research present a single slide and have three minutes to explain to a panel of judges how and why their research is exciting, important, and innovative. One slide, and three minutes exactly.