Anthropology professors recognized for efforts in collaboration
Anthropology professors recognized for efforts in collaboration
March 23, 2017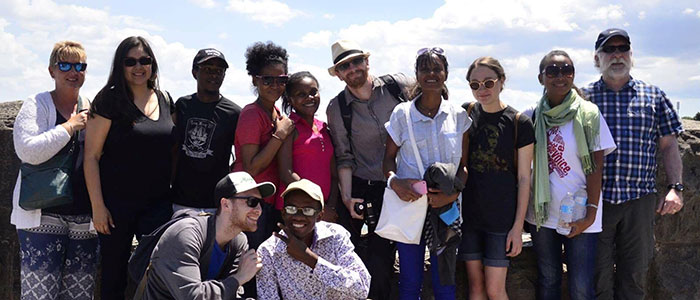 Professors Andrew Walsh, Ian Colquhoun and participants in an Anthropology field course
"Collaboration is a way to force you to look at things differently," said Andrew Walsh, Associate Professor in the Department of Anthropology.
For the past 10 years, Walsh and Ian Colquhoun, Associate Professor in Anthropology, have worked with Alex Totomarovario of Université d'Antsiranana in Madagascar to offer a unique exchange and learning opportunity for students from both universities. Their efforts were recently recognized with the inaugural Vice-Provost (Academic Programs) Award for Excellence in Collaborative Teaching.
Through the exchange program, students from Western travel to Madagascar, and in turn Malagasy students visit Western. During the exchange, students have an opportunity to undertake research, and participate in the everyday life on the university campuses.
While the program gives first-hand experience in anthropological studies, it also highlights the importance and difficulties of collaboration.
"We were trying to teach students how to work collaboratively across all these differences they encountered: cultural differences, differences in their studies and their own focuses," said Walsh.
"Undergraduates don't necessarily realize how nuanced that can be," said Colquhoun. "We thought it was important to show students the outcomes produced by working collaboratively and across sub-divisions."
Past participants reported how important the course was to their development.
"I saw firsthand how positive collaboration between people with different backgrounds and insights can develop effective strategies to address local community issues," said Ashley Patterson, who took part in the field school in 2008. "This field school teaches students the importance of communication and how teamwork, patience and flexibility are crucial factors in successful collaborative practices. These lessons and skills have supported me in my own professional development and further education in the social work field.
"One of the most satisfying aspects is to see students come out of the course and carry on, whether in academia or outside – and see that it really registers with them and shapes them," said Colquhoun. "We consistently see an impact on the students. We must have hit something right if students experience an outcome that keeps surfacing time after time."
While the course teaches collaboration, establishing it required working with people and institutions across international borders. Walsh and Colquhoun stress that the course would not have been possible without support from Western University or the Université d'Antsiranana.
While in Madagascar, students from Western are treated as students in the host school, receiving the same institutional support. Visiting Malagasy students are often integrated into community projects and programs such as those offered by the Western English Language Centre in the Faculty of Education.
"Nothing could have been done without support of so many people," said Colquhoun.
The award comes with a financial benefit, which Walsh says will be going to Madagascar to continue supporting the collaboration and the work of Totomarovario.
"It's an important recognition for him too," said Walsh. "He has been an important supporter from start, both in teaching and logistics."
Established in 2017, the Vice-Provost (Academic Programs) Award for Excellence in Collaborative Teaching recognizes instructors whose exemplary collaborations in university teaching enhance student learning.