Chris Ellis recognized for outstanding contribution to archaeology
Chris Ellis recognized for outstanding contribution to archaeology
May 15, 2017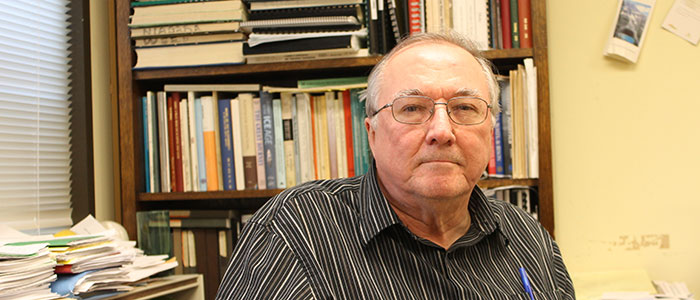 Chris Ellis' career in archaeology could be defined by his meticulous detail and attention paid to the many Ontario sites he has worked on over the past 40 years.
Ellis, a specialist in the analysis of older preceramic sites that date in excess of 3000 years ago, has produced detailed reports on almost every site he has worked on, no matter how small. With a long-term collaborator, Dr. D. Brian Deller he has published more reports on the most ancient, late ice-age sites of ca. 13,000 years ago than anyone else in Eastern North America.

Ellis, a Professor in the Department of Anthropology, was awarded the Smith-Wintemberg Award for his contribution to the field of archaeology at the 2017 annual meeting of the Canadian Archaeological Association. The Smith-Wintemberg Award is presented to honour professional members of the Canadian archaeological community who have made an outstanding contribution to the advancement of the discipline of archaeology and knowledge of the archaeological past of Canada.
"How many research-oriented university or museum based archaeologists in Ontario actually research on Ontario sites?" Ellis said. "Not many; right now only about five, and I feel very fortunate about having had the opportunity to determine what questions are important and carefully select sites for investigation to pursue answers to those questions "
While he has produced theoretical work, Ellis feels his lasting contribution is the detailed substantive reports produced, documenting in detail specific sites. The basic data recorded in the detailed reports is useful beyond the life of many theories, he said, and in his own research consults similar detailed reports from sites recorded in the 1950s and earlier but like most archaeologists today he rarely consults the theoretical works of that time!
Ellis feels academic archaeology has changed to focus too much on publishing almost exclusively in major archaeological journals to the neglect of the more local journals such as that published by the Ontario Archaeological Society. The shift toward major journals creates a situation where archaeologists are only speaking with other archaeologists, and not the local public who are avid readers and supporters of those local organizations. Ellis would like to see more popular and accessible writing for archaeology.
At the same time, much of the current Ontario archaeological field work is completed by contractors working for development or construction companies, and there has been a shift over time from research to cultural resource management, "a shift away from research to salvage archaeology," as Ellis said.
These changes move the discipline away from finding out about past peoples, which is what archeology is really about. "Recovering the artifacts themselves isn't as important as what they can tell us about the people," said Ellis. "You need data rich reports on site, and the more the better, to find out about the people but much of the information from salvage projects remains hidden."
Still Ellis said there have been many positive changes over the years in archaeology, including an increased focus on involving and working with First Nations peoples, who have become more involved in the managing and interpretation of their archaeological resources and heritage.
Ellis is currently working on a site located between Parkhill and Thedford along the Ausable River – a 3,000-4000 year-old site with features such as pit houses and extensive refuse deposits that are revealing formerly hidden details of past daily life amongst First Nations peoples. Unlike many sites in the area, the site had been buried, protecting it from being picked over by relic hunters and such, which provides a deeper understanding of the artifacts found and what these sites were really like.
"The items on their own don't tell us much. Knowledge comes from context, from where the artifacts were recovered and in what associations," said Ellis. "It behooves those of us who do have the opportunity to publish detailed reports on those contexts and their potential meaning in term of past human life."