Economist, academic and entrepreneur, David Greenaway, presented with honorary degree
Economist, academic and entrepreneur, David Greenaway, presented with honorary degree
June 15, 2017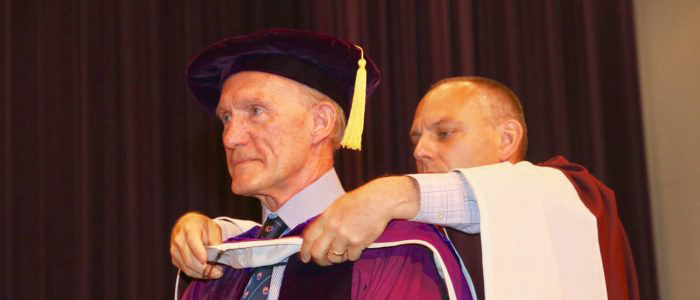 By Adela Talbot, Western News
In recognition of his accomplished career as an economist, academic and entrepreneur, David Greenaway, Vice-Chancellor of the University of Nottingham, received an honorary Doctor of Laws, honoris causa (LLD), at the Tuesday morning session of Western's 309th Convocation.
During the ceremony, he spoke to graduates from the School of Graduate and Postdoctoral Studies and the Faculty of Social Science, encouraging them to reflect on the enduring nature of universities, where scholars engage the public and continually work to transform the world.
Graduates are entering a world of rapid change, Greenaway said, and challenges that come with that will define their lives and generations.
"Maintain high standards. Be bold and ambitious. Be resilient, and be prepared to take risks," he said.
"If you take risks, sometimes you will fail and failure is not always a comfortable thing to deal with. But it is an essential thing to deal with because you can't make progress without it," Greenaway continued.
"Be determined, apply yourself relentlessly. Work hard. Always retain a degree of humility and be prepared to listen. Always set out to give more than you take."