Geography student provides Indigenous leadership on police board
Geography student provides Indigenous leadership on police board
January 18, 2018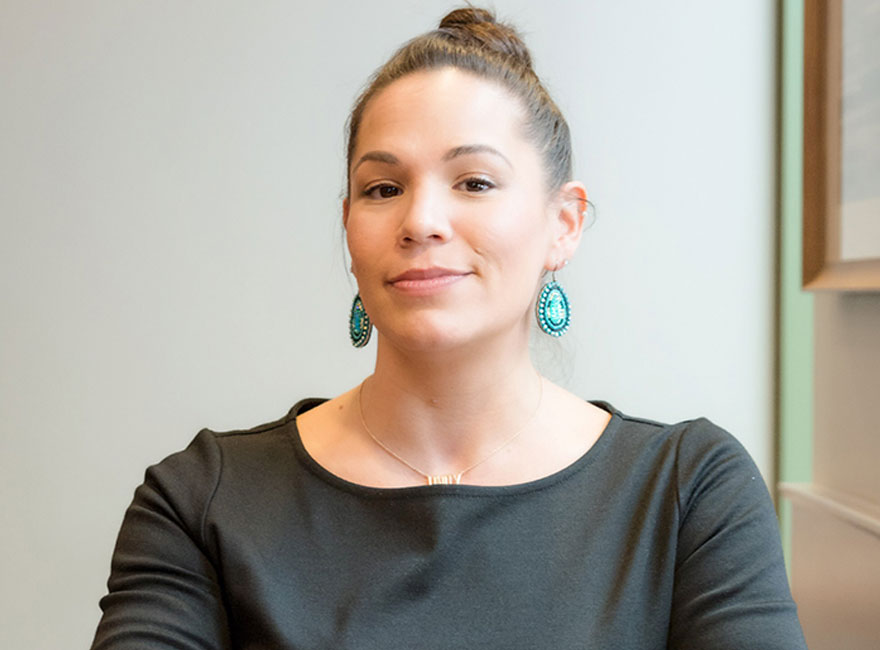 Story by Adela Talbot, Western News/Photo courtesy of Shawn Johnston
Vanessa Ambtman-Smith knows the grim statistics: Indigenous women are more likely to be victims of violence than any other group in Canada.
This is something she hopes to address as the first Indigenous person to sit on London's Police Services Board.
"I am an Indigenous woman; I am raising an Indigenous daughter and statistics tell me I'm more likely to be murdered or to be a victim of violence than any other person in Canada. These statistics are a reality for me and my daughter and I want to have an active role in looking at ways to reverse that," said the Calgary-born Geography master's student who identifies as Métis-Cree.
In December, Ambtman-Smith and Muslim city councillor Mo Salih were named to the board that oversees London's police. Ambtman-Smith brings with her 17 years of experience working in Indigenous health, having spent the last four at the Southwest London Heath Integration Network (LHIN) as its Indigenous health lead.
The police services board is one place where her personal, professional and academic strengths intersect.
"The biggest part of my job (at LHIN) is to support strategic planning for health care in order to improve access to health services to Indigenous people living in the region. My focus (in school) is in health geography. I'm specializing in Indigenous health and one of the areas I'm researching is the development of deliberate spaces within the human built environment – so, the hospital – to see how that's going to help improve Indigenous health."
Just as Indigenous people face barriers in health care, they have also been excluded from planning tables, Ambtman-Smith added. As the board's first Indigenous member, she wants to bring the Indigenous voice forward and help reverse a systemic inequity and "process of exclusion and marginalization."
"In the justice system, you will see Indigenous people over-represented within institutions and jails. A lot of that has to do with the history of colonialism," she noted.
"And part of what I'm being asked to do is to bring forward the voices about why these inequities occur and looking at ways to start to create systemic change to address them."
Ambtman-Smith has been involved in the London community, working to address racism, diversity and inclusion. She was named to Mayor Matt Brown's poverty panel and is eager to generate positive change for Indigenous people in the community. She knows an opportunity to sit at the strategic governance level is necessary to make that happen.
"Our voices have to start being included somewhere, and I think when it comes to how people are treated and community safety, it's a big deal," said Ambtman-Smith.
At the board's first meeting last month, she supported a motion to redevelop the sexual assault investigation policy, with a deliberate focus on Indigenous women. She is now leading a sub-committee that is drafting policy and will be engaging with women who have lived experience, including those who lead and offer sexual assault services, investigate sexual crimes and support women's services in the community. She hopes to have a policy for approval in March.
"To me, it is a cultural shift. It's signalling the fact that within police services, we want to see investigations that take a victim-centred and a victim- and trauma-informed approach. We are privileging the women who are coming forward so there can be better outcomes for those victims," Ambtman-Smith said.
"Even though I am one voice and one person, I always try to speak from a collective experience of Indigenous people. Because I'm so involved and connected with the communities, I make it my mission to amplify the issues and help educate people to have a better understanding about why Indigenous people experience such unparalleled health inequities, and inequities in general," she continued.
"I just want to change the story. I want to change the narrative. I want to change the ways Indigenous people have been represented and to carry forward our version of history and how it has impacted and contributed to the reality we experience today."