Honouring exemplary contributions to geography
Honouring exemplary contributions to geography
November 25, 2019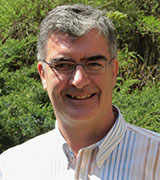 On Thursday November 21st, Dan Shrubsole, Professor in the Department of Geography, was awarded the prestigious honour of becoming a Fellow of The Royal Canadian Geographical Society (RCGS). The mandate of the Society is "to make Canada better known to Canadians and to the world". According to the RCGS, the Fellowship is comprised of distinguished individuals from many different fields, united in their commitment to celebrate Canada, its geography and peoples.
As a champion of Geography throughout his career, Professor Shrubsole has demonstrated his dedication to the discipline through his research, mentorship, teaching and service. As the recent recipient of the Service to Ontario award, presented to him by the Canadian Association of Geographers Ontario Division, one nominator noted that his contributions to geography in Canada are exemplary.
Professor Shrubsole has made significant research contributions that have enhanced understanding of environmental issues, especially those related to conservation, water resource management, and flood risk management. He served the Canadian Association of Geographers as National Director, Vice President and President. In these roles, Professor Shrubsole worked tirelessly to ensure the voices and key concerns of professors and students working at Ontario universities (and across the country) were heard. As a Fellow of the RCGS, Professor Shrubsole will continue to champion Geography through his leadership.