Harvey researches the impact of changing employment trends
Harvey researches the impact of changing employment trends
January 04, 2021
Story by Rob Rombouts; photo submitted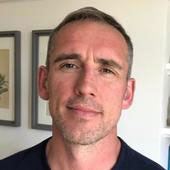 The way organizations employ people is changing. An increase in the use of temp agencies, employment firms and hiring of 'bogus self-employed' contractors has led to a decrease in job security and compensation for workers.
Geraint Harvey researches these trends, with particular attention to how they impact employment in the aviation industry. Harvey is joining the DAN Department of Management & Organizational Studies as a Professor, and the inaugural DANCAP Private Equity Chair in Human Organization.
Harvey said that when firms hire people through 'bogus self-employment', hiring them as contractors instead of employing people directly, the firms see savings through not paying minimum wage, sick pay and holiday pay, not offering benefits, or paying into government insurance and employment programs. These costs are passed on to the employees, and there are economic implications. Workers in the gig economy, Harvey said, move from short-term job to short-term job, and are forced to take additional work because they are underemployed.
"Labour tends to be one of the few malleable costs," said Harvey. "If a company has to make savings, labour tends to be a go to place for cuts."
Liberalization in the European airline industry has led to increased competition, notably from discount airlines such as Ryanair. Harvey points to the distinctive employment policies at Ryanair that lead to changes in employment policies elsewhere. These are not beneficial to workers.
Work in the civil aviation industry represented secure employment at one time with the job of an airline pilot seen as a lucrative and attractive profession. Due to market pressures presented from discount airlines, legacy airlines such as KLM-Air France and British Airways are introducing new policies to change employment. In 2010, following a labour dispute, British Airways came to an agreement with the union representing its cabin crew that, while the airline would not change the terms of employment for existing workers, it would introduce a 'mixed fleet' workforce, which was paid significantly less than its legacy employees. Other airlines are reducing labour costs via other methods, including creating subsidiary airlines to change routes.
Harvey notes that while these changes were already occurring, the pandemic has caused an acceleration in these trends. With the downturn caused by COVID-19, many airlines have announced large-scale redundancy programmes and the proposal by British Airways to fire and re-hire its workforce on reduced terms and conditions has been questioned in the British Parliament.
In other industries, the terms of employment are more pernicious. In researching employment patterns in the personal training industry, Harvey and his colleagues identified a new relationship between labour and management they define as "neo-villeiny" as it reflects key elements of the medieval practice of villeiny or serfdom. Self-employed personal trainers must pay a rent to a fitness centre in order to access the clients and equipment of the centre, engage in unrewarded work that benefits the fitness centre, are in general bound to a fitness centre, but are not guaranteed an income in turn.
Harvey's research has influenced recommendations and policies promoted by the International Labour Organization, a United Nations agency whose mandate is to advance social and economic justice through setting international labour standards.
His research in the fitness industry has informed an investigation undertaken by the Work and Pensions Committee of the UK government. Instances of neo-villeiny are apparent elsewhere in the service industry, in airlines for example, and beyond.
Harvey is looking forward to joining DAN Management and the Faculty of Social Science.
"Western is a fantastic university, and when the opportunity came up, it was manna from heaven," said Harvey. "To be part of a thriving social sciences department, to be part of DAN, is a great opportunity."
Harvey said he is already connecting with his colleagues and looks forward to working with them, and to teaching the DAN Management students. With his experience and research focused on the aviation industry, Harvey will also work with the Commercial Aviation Management program.
The DANCAP Private Equity Chair in Human Organization is one of four private equity chairs created as a result of the generosity of Aubrey Dan and the University Matching Chairs program.
Related Stories:
Mark Cleveland has been named as the DANCAP Private Equity Chair in Consumer Behaviour
For Professor Martin Petrin, the future is now
Preparing firms to face the challenges of the future; Geoffrey Wood named as Dancap Private Equity Chair in Change and Innovation

DAN Management receives transformative $5-million gift