Samantha Torrens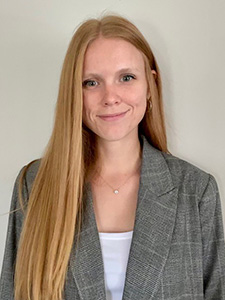 Samantha Torrens works to balance the needs of real estate management and development with environmental concerns and considerations. She applies the skills and knowledge gained through her undergraduate studies in geography, and a graduate degree in Environment & Sustainability, both completed at Western.
Torrens currently works with Triovest Realty Advisors, bringing an ESG perspective to commercial real estate, including corporate social responsibility reporting. She also focuses on improving the energy efficiency of buildings.
Torrens has always had a love of travel, and a passion for cities and the built environment. This passion led her to complete her undergraduate degree in geography at Western and has helped define her career.
When she was considering schools for her undergraduate degree, Torrens was looking for a school where she could be involved and experience many different opportunities. She found this in abundance at Western.
"I was an active member of the Geography People's Society during my tenure at Western," said Torrens. "I loved being involved with students in similar programs and courses. It was helpful when it came time to studying for exams or trying to select courses. I also loved attending our events. It was a great way to meet my professors."
Along with active participation in many student activities, Torrens received many scholarships and awards for her stellar academic standing.
"It taught me how to take really technical information and present it in a way that is digestible to an array of different audiences," she said. "I am able to read a report and synthesize main points and arguments. I learned how to work independently and never stop being curious and asking questions."
Following her education, she worked in the public and private sector, focusing on environmental assessments and mitigating the environmental impact of the built environment.
"You don't always need to have a plan in life. We are asked in high school to make a decision for where we see ourselves later in our careers, and that's really scary! As long as you are happy and doing what you love, that is what matters most," said Torrens. "Your degree doesn't define who you are. Continue being curious and you never know where you will end up."