Jeff Hopkins - Excellence Award
Jeff Hopkins - Excellence Award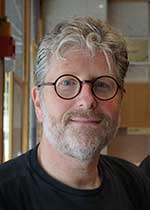 Faculty of Social Science Dean Robert Andersen is pleased to announce the inaugural winners of the Social Science Dean's Award for Excellence in Teaching: Andrew Sancton, Department of Political Science, Jeff Hopkins, Department of Geography, and David Sherry, Department of Psychology.  
Jeff Hopkins has demonstrated a longstanding commitment to excellence in teaching, particularly in the areas of academic counselling, tutoring and mentoring of students. Before receiving this award, Hopkins was recognized by the University Student Council with the Western Teaching Honour Roll seven times.
"I am flattered, humbled and thankful for the letters of support I received from colleagues and especially students," said Hopkins. "I am delighted to be recognized as one of the many instructors at Western who attempt to contribute toward the education of our students."
His teaching is also noteworthy for his innovative and engaging course design and curriculum development, his many contributions to instructional development and educational outreach at the local, provincial and national levels, and his graduate student and thesis supervision and teaching. Many students remark that Hopkins has left a long-lasting impression, encouraging them to see aspects of their everyday lives through the lens of cultural geography, whether they continued their education in geography or not.
"I think teaching at the university is a privilege, a serious responsibility, and frankly, an incredibly fun and rewarding endeavour," said Hopkins. "Research--the creation of knowledge--often eclipses the status and importance of our sister task of teaching--the distribution of it--so I am pleased Western, and of course the Faculty of Social Science, continues to expand its recognition of this vital aspect of our university."
The Faculty of Social Science Dean's Award for Teaching Excellence was developed to recognize the examples of outstanding pedagogy, demonstrated through the active, critical role of the instructor who fosters critical thinking and inspires students to engage in the quest for knowledge as a value and a skill. Nominated by Nominated by Department Chairs, successful nominations include comments from colleagues and from students. Award recipients will be recognized with a plaque outside Social Science Room 2050.