Andy Sancton – Department of Political Science
Andy Sancton – Department of Political Science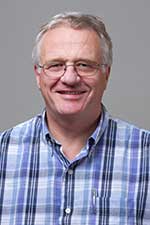 Faculty of Social Science Dean Robert Andersen is pleased to announce the inaugural winners of the Social Science Dean's Award for Excellence in Teaching: Andrew Sancton, Department of Political Science, Jeff Hopkins, Department of Geography, and David Sherry, Department of Psychology.  
Andrew (Andy) Sancton has been a member of the Department of Political Science for nearly 40 years, and is one of Canada's most prominent scholars of Local Government and Urban Politics. Sancton has played a critical role in shaping the department's Local Government Program, as the program Director.
"Western's Political Science Department has enabled me to teach and work closely with managers in Canadian local government and to supervise outstanding PhD students," said Sancton.
Between 2008 and 2015, Sancton supervised or served as second reader on nearly 100 Master's Research papers, well above what is expected of a faculty member in the department. Many of the PhD students he supervised have gone on to pursue careers in academia, and four of the eight dissertations he supervised have been published by prestigious university presses.
Outside of the academic world, Sancton has recognized the need to provide municipal employees with training, helping to launch a Diploma in Public Administration Program in the Greater Toronto Area.
"I am very grateful to the Department and the Faculty for this career opportunity and for this new teaching award," said Sancton.
The Faculty of Social Science Dean's Award for Teaching Excellence was developed to recognize the examples of outstanding pedagogy, demonstrated through the active, critical role of the instructor who fosters critical thinking and inspires students to engage in the quest for knowledge as a value and a skill. Nominated by Nominated by Department Chairs, successful nominations include comments from colleagues and from students. Award recipients will be recognized with a plaque outside Social Science Room 2050.