Reading Room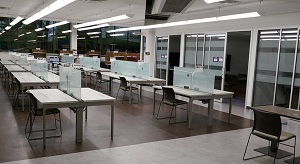 Social Science Centre, Room 1051
Welcome to the Social Science Reading Room, SSC 1051!
With support from Western's Provost, Faculty of Social Science, Social Science Students' Council (SSSC) and the Social Science student donation fund, the Reading Room opened on January 17, 2017. 
The room is available for Western undergraduate Social Science students. Due to the current pandemic, use of the room is restricted to Social Science students only.

Study Space
Please adhere to the following rules:
Wear a mask at all times
Do not move any seats
Social Distance at all times
Be considerate to those around you
Only lidded drinks allowed - no food
Use headphones - no excessive noise
Keep it clean - remove all garbage
Leave the room by 7:00pm
Collaborative Rooms
The Collaborative rooms are currently closed. We will consider opening the Collaborative rooms at a later date. 
Reading Room Hours:     7:00 AM - 7:00 PM, Monday to Friday, closed weekends
SSSC Hours:   9:00 AM - 5:00 PM, Monday to Friday (September - April)
Access to the room for Faculty of Social Science students is by swiping with your Western One card.
For information on card access in Social Science visit Social Science Technology Services.
Find additional study spaces across campus
Visit the study spaces page on The Office of the Registrar site