Application Process for Long-term Internship
STEP 1: Attend an Information Session (recommended)
Attend ONE Internship Program Information Sessions:
Wednesday, September 22, 2021 at 5:00pm EST on Zoom – Register
Tuesday, October 12, 2021 at 5:00pm EST on Zoom – Register
Session will include a program overview & benefits, eligibility criteria for both internship lengths, the recruitment timeline and process, and course deliverables.
If you decide to participate…
STEP 2: Register through Western Connect
Register at Western Connect by completing the "2021-22 Intern/Co-op - SSLI - Social Science Long-term Internship" application form: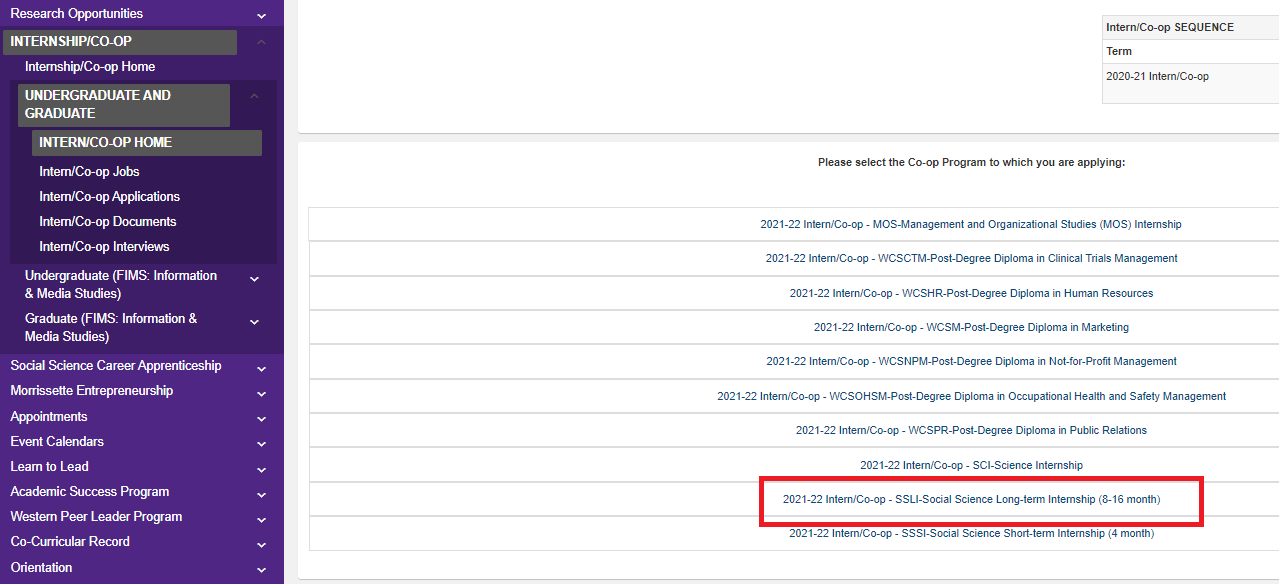 Note: If you are eligible for both long- and short-term options this year, please only complete the long-term internship application form where you may indicate your interest in being considered for both programs.
Online registration opens August 24, 2021 and closes November 26, 2021 @ 11:59pm.
Students are encouraged to submit their application for this program as soon as possible to ensure access to early postings!
Applications are typically reviewed within five to ten business days. You will receive a notification from Western Connect once this process has taken place.
Approved applications will be granted access to view internship job postings on Western Connect.
STEP 3: Cover Letter, Resumé, and Interview Skills Preparation
Option 1: Create a Login and complete the Career Fundamentals for University Students online modules via Complete Student.
Please upload your certificate of completion to your Western Connect profile under "Documents" (How To Video).
Option 2: Attend  "Interviewing in a Virtual World" ,"Effective Resume Writing" and "Compelling Cover Letters" workshops offered by Western Career Education. A full schedule of fall term offerings will be available here. Your attendance will be recorded.
STEP 4: Resumé and Cover Letter Review
Prepare a resumé and draft a sample cover letter.
Option 1:  Send your documents for personalized feedback through the Western Employment Resource Centre e-advising service.
OR
Option 2: Sign-up for the in-person resume and cover letter review clinic HERE  (November 11th or 16th)!
Once feedback is incorporated, please upload your resume and sample cover letter to your Western Connect profile under "Documents" (How To Video). This is used by the SSIP team as a reference point to your experience, but you will have the opportunity to tailor each application package that you submit to employers.
You may be contacted by SSIP team with further feedback on your documents, and will have access to further individualized feedback throughout your internship search.
DEADLINE FOR STEPS 1- 4 IS FRIDAY, NOVEMBER 26, 2021 AT 11:59PM
STEP 5: For International Students: Apply for a Co-op Work Permit
International students who meet the requirements to participate in the internship program must secure a valid co-op work permit regardless of the timing and length of the internship.
The deadline to apply for your co-op work permit is December 23, 2021.
The IESC advisory team is available to help you in the application process!
We strongly encourage you to:
Attend a 2021-22 IESC Co-op Work Permit Information Session:
Make an appointment with an IESC Advisor at iesc@uwo.ca to discuss your individual application.